Carve with Confidence – Paris Trucks V2 150mm 50º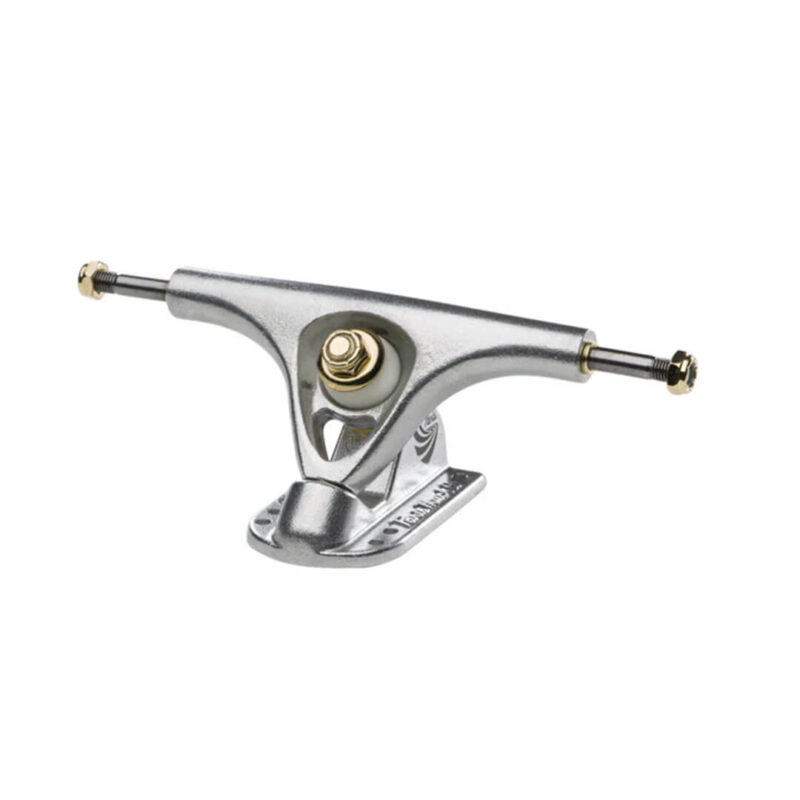 Swift Turns with 150mm Hanger
Experience the thrill of precise carving and agile performance with the Paris Trucks V2 150mm 50º in eye-catching White/Gold. These trucks are meticulously crafted to elevate your rides, delivering swift and responsive turns that will leave you craving for more. With a 150mm hanger, you'll enjoy unparalleled agility and leverage, making lightning-fast turns and surf-like slashes on any terrain a breeze.
Perfect Balance: 50° Baseplate Angle
Strike the perfect balance between stability and maneuverability with the 50° baseplate angle of the Paris Trucks V2 150mm 50º. Whether you're navigating city streets or carving down hills, these trucks provide smooth rides and precise control, ensuring a thrilling skateboarding experience. The impeccable balance offered by the 50° angle gives you the confidence to take on any challenge with ease.
Effortless Cruising
Cruise and carve effortlessly with the stock 90a barrel/cone bushing combo of Paris 150s, ensuring ultimate response and rebound for a delightful skating experience. Seamlessly transition between turns and maneuvers, feeling the board respond to your every move. Whether you're a seasoned skater or just starting, the Paris Trucks V2 150mm 50º provide the ideal platform to master the art of carving.
Ultimate Durability
Experience unmatched durability with the Paris Trucks V2 150mm 50º, meticulously crafted from 356.2 virgin aluminum using gravity molding. This top-quality material not only ensures a lightweight design but also offers the strength and resilience needed for prolonged use. The trucks boast grade 8 steel axles and branded kingpins, providing exceptional performance and reliability on every ride. The secondary heat treatment adds even more robustness, allowing you to push your limits with confidence.
Versatile Compatibility
Designed to fit decks ranging from 7 to 8.75 inches wide, the Paris 150mm trucks offer versatile compatibility, catering to various riding styles. Whether you prefer a classic cruiser or a nimble carving board, these trucks are the perfect match. Embrace the freedom to choose the deck that best suits your style, and unlock endless possibilities in carving, cruising, and beyond.
Express Your Style
Stand out and express your unique style with a selection of eye-catching color options for the Paris Trucks V2 150mm 50º. Personalize your skateboard to make a bold statement wherever you ride. With striking hues and captivating designs, you'll turn heads and showcase your personality as you carve the streets and conquer the skatepark.
Backed by a Lifetime Guarantee
Invest with confidence, as the Paris Trucks V2 150mm 50º come backed by a lifetime guarantee. Paris Trucks stands by the exceptional quality and craftsmanship of these trucks, ensuring that they will withstand the test of time. Ride with the assurance that you're investing in a product built to last, ready to support you through countless shredding sessions.
Embrace the Art of Carving – Order Now!
Elevate your rides with Paris Trucks V2 150mm 50º. Don't miss out on this chance to take your rides to new heights. Order now and let the carving adventures begin!